Berlin
Tim – June 04, 2016
Good Light and a mirror in the shower is everything.
thanks Hotel ZOO Berlin :o)
just because!
Tim – May 24, 2016
after gym in the elevator :o)
Sergi and the Daddy
Tim – May 24, 2016
We recently filmed with Sergi again and paired him with a hot hung daddy who did this first porn with us.
You will see them soon here on Timtales.com
Brussels
Tim – May 18, 2016
went to Brussels over the weekend with some of my friends to go to La Demence party.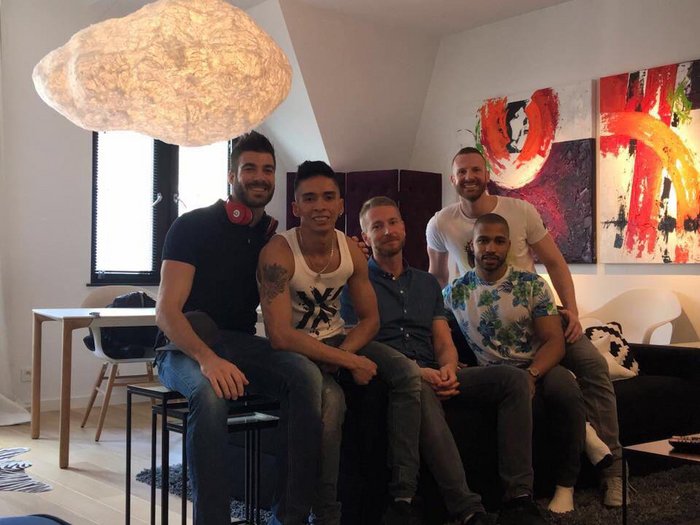 Fun at GMf Party in Berlin
Tim – May 11, 2016
after the Conchita Wurst Concert i went out with some of my friends to GMF party which is every Sunday.
We all had such a fun and great time!
Conchita Wurst an me
Tim – May 11, 2016
took this photos after her Concert backstage.
Berlin visit
Tim – May 06, 2016
I´m a few days in Berlin and seeing some friends.
Sunday i´m going to see Conchita Wurst at her Concert.

The shirt i wear is www.ohboy.pl
"Hottest Cock"
Tim – May 03, 2016
TheSword is asking who should win the "Hottest Cock" Award at this years Grabbys in Chicago.
If you like mine then vote ;o)


Late Lunch
Tim – May 02, 2016
Had an Arepa and a Salad for Lunch today! way yummy!
Swimwear Present
Tim – April 27, 2016
The Guys from www.Timoteo.net sent me a nice present. How do you like my new swimwear?